Have you ever thought about moving out of state or maybe even out of the country? Does the thought scare you or excite you? Do you feel that it might be overwhelming?
Today's blog post is about how to prepare for a big move. The first step is to think about where you want to move. Now maybe for some of you, you have to move out of state for a job or for family, so that's of course a bit out of your control; however, you can still possibly look for the type of neighborhood you'd like to live in. I like lists, so I would start with a list of what I want and need in a neighborhood. Do you like to be part of the action of a downtown? Do you want mountains and lots of quiet? Do you want a place with lots of families or young professionals or retirees? Are you looking for sunshine and beaches? Ideally, your list would have your wants and needs and then maybe a second list of "preferred" characteristics that would be more specific like "needs to be near a local brewery" or "within walking distance of a cafe that has live music on the weekends." Once you have your list, then you can research areas of the country or the world that fit your list. You should also try to reach out to friends and family who might have lived or traveled there to get their take on daily life there.
The next task is to visit the area if possible. When you do this, you want to pretend that you already live there. So this means that you want to check out the local grocery store or visit the farmers' market. You should tour the neighborhood and talk to locals. Go to local restaurants and takeout places. Take the bus if there is a bus route there. Grab a cab and visit a local business. If you think you'll be starting a business in the new city/town, then definitely visit the local chamber of commerce. Some cities also have business offices for folks starting a small business in the area. In my opinion, there is never too much research that can be done. See how the neighborhood feels to you after you do all of this. Do you feel at home? Do you like the pace of life there? Do you see yourself living there? If not, then keep researching or think about picking a new area.
Once you are convinced that you're ready to move there, then you want to make a list of to dos. Here are just some of the to-do items for a big move:
Research housing: will you rent, buy, or live with family/friends there? Contact a realtor to find out about different areas and what is affordable for you. Research traffic and public transportation too. Will you be living near your office/business? If you have kids, what are the schools like and/or what are the daycare options?
Contact moving companies: will you be moving yourself or will you need to hire a mover that does out-of-state moves? Will you keep all of your furniture and belongings? Will you sell everything? Will you have an estate sale or yard sale, etc.? Will you ship clothing, sheets, towels, etc. to your new home?
Look for new groups, etc.: get a new doctor, dentist, hairdresser, or dermatologist; join a new gym, business group (if you are starting a business there), running club, mom's group, spa, etc. Whatever you do in your current city in terms of hobbies, activities, exercise, health, etc., you'll need to set up in your new city/town. If your current bank does not exist in your new state/country, then you'll need to look into opening an account at a bank in your new neighborhood.
Subscriptions/Services: be sure to cancel or forward any current subscriptions you have (e.g., magazines, catalogs, newspapers, beer-of-the-month club, subscription boxes, food service, or journals). Also, if you are a member of your local museum, gym, country club, etc., you will want to cancel that; some of these have auto-payments annually, so be sure to check on those! If you have a credit card to a store that doesn't exist in your new state or country, then you will probably want to cancel that too. I'm adding things like electric, gas, cable, insurance, and internet services to this section. You'll need to cancel these and set them up in your new home. Also, be sure to register to vote in your new city/town, and find out where your polling location is!
Address change: this might be a long list. Typically the post office will forward your mail for anywhere from six months to a year, but then you have to contact stores, agencies, businesses, etc. to tell them of your new address. Again, this is where a list comes in handy! As catalogs come in the mail, jot down the company names and keep a running list of the businesses to call or email with your new address. If you get mail from your high school and college, then you'll want to update your address with them too. Also, if you order items online (e.g., Amazon, Sephora, Macy's, CVS, Anthropologie, Williams-Sonoma, Target, etc.), you'll want to update your contact info on the stores' sites. Lastly, don't forget to share your news and your new contact info with family, friends, acquaintances, neighbors, and other folks you know from committees and groups that you're in.
Packing: maybe you are planning on selling all of your stuff before you move, but if you are not, then think about what you really need in your new home. Be ruthless in your decisions: only bring what you absolutely need on a daily basis. Don't bring that bread maker if you haven't baked bread in 20 years. Also, maybe your new home is next door to a bakery, so who needs a bread maker if you can get fresh bread daily! We always think that we'll need everything that we have in our current home when we move, but oftentimes, we need much less! One tip when packing that's key to remember: pack an "open first" box; this is the box that should house your important docs, credit cards, keys, a few towels, medicine, vitamins, some toiletries, important contact info (if it's not in your smart phone!), your phone charger, and anything that you'll need or want on day one in your new home. It might even be your French press and your favorite coffee so that you can make coffee on your first morning in your new place! Also, be sure to label your boxes carefully, so that you are not spending hours trying to find a band-aid if you get hurt in your new home. Here are two articles about moving that could help: minimalwellness.com/themove/ and
https://www.apartmenttherapy.com/what-to-throw-out-when-moving-266188. Also, unclutterer.com has 33 blog posts on moving! Check them out!
Lastly, relax, try not to stress, ask for help if you need it, think of the positives, and take care of yourself as this is all happening! Good luck!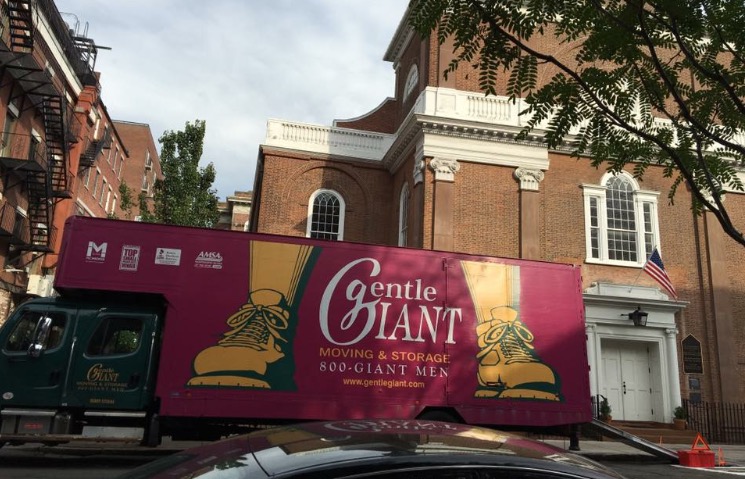 Cheryl Russo
March 2019