I think most of us have at one time or another sat at a table with a notebook or a pad of paper and brainstormed a bucket list. A bucket list is typically a list of everything one wants to do either before a milestone birthday or before one dies.
I have a love/hate relationship with bucket lists. From what I've seen, many people only think of them after a long illness or after some major change in their life. Sometimes they are thought of a year before a milestone birthday because we think about getting older and then think about all that we've done in life or not done. Why do we do this to ourselves? This seems stressful to me. I think that we should try to do something daily, weekly, or monthly that makes us happy or that we'd like to do. Of course, some bucket list items require money, and sometimes we need to save a little before doing that activity. I completely understand that! But there are definitely smaller, more manageable bucket list experiences that we can do regularly and that won't break the bank!
For example, if you want to skydive, don't put it off. Research what it costs, where you can do it, and what you need to do to prep for it. Then look at your calendar, and plug it in! Add it to some Saturday in the summer! You can do it! And you'll feel good that you took a risk, got out of your comfort zone, and tackled something that you've wanted to do for a while; moreover, you won't have waited till you're 49 or 59 or 69 to do it!
Maybe you've wanted to sing karaoke with friends. That's an easy one to do! You can do it! Find a restaurant that hosts karaoke, get your friends together, and go for it! Get out of your comfort zone! And this one won't cost you much either!
Lastly, I think bucket lists prove that activities and experiences make us happier than things. Why do I think this? The lists are typically activities that we want to do before we die or before a milestone birthday. They are almost always some kind of activity or experience: swim with dolphins, skydive, travel to some far off place, hike a mountain, run a marathon, try yoga, etc. Very rarely is the list comprised of things to buy. Sure, sometimes you'll see something like: buy a corvette. But the why for this list entry is surely not to leave it parked in the garage! It's to drive it with the top down on a beautiful day! So, in the end, even the "things" that make it to the bucket list are typically added for an experience to occur.
I urge you to think about this the next time you want to buy something that is on sale or some gadget for your home. Instead, think about spending that money and time on an activity or experience that you have wanted to do for some time or that you only recently thought about and wanted to try. You'll be happier after you do it!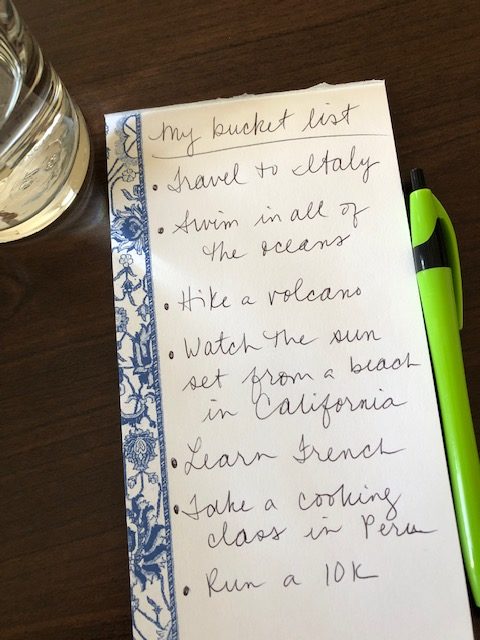 Cheryl Russo
February 2020