As a bit of a break from writing about organizing or the pandemic, I thought that this month I'd tell you some of my favorite things. Though we cannot and should not forget what is happening in our world right now, this post might feel a little refreshing. Sometimes clients ask me about my life, what I do in my free time, where I dine out, and more. So this month, I'll write about many of the things that I love!
One person I loved and admired is Ruth Bader Ginsburg, and sadly she died on September 18 at the age of 87 after a long battle with cancer. I will always remember what she did for women's rights.
Since I just mentioned a woman I admired for much of my life, let's continue with that theme. Many of my favorite authors are women; I especially like their powerful and purposeful writing. One of my favorite authors is Jhumpa Lahiri. I've read her books and short stories for years. If you're looking for good writing and interesting character development, look no more! Plus she lived in Boston for a time, so some of her stories incorporate the essence of that city. Also, she's a lover of the Italian language, and she captures this love in her book, In Other Words.
Another important writer is Chimamanda Ngozi Adichie. I've admired her for years especially after reading her book, Americanah. She often speaks about feminism and what she calls "the danger of a single story." Check out her books and her TED talks!
Other favorite authors are Gloria Steinem, Toni Morrison, Joan Didion, and Joyce Carol Oates. They are all beautiful writers whose stories stay with you long after reading them. One of my favorite short stories by Joyce Carol Oates is called, Where Are You Going, Where Have you Been?; it was originally published in 1966, and even today, its suspense is extremely powerful.
Reading is one of my favorite hobbies as is trying new restaurants and food, so let me tell you about some of my faves! I live in Savannah, but I've eaten at lots of fabulous restaurants around the country, and my favorite is Vedge in Philadelphia. I traveled alone a few years ago to this fabulous city, and I ate several courses at this divine establishment! I sat at the bar, ordered about six small plates, plus drinks and dessert! I know…what?! Yes. I don't regret one sip or bite! Follow them on Instagram if you want to see mouth-watering deliciousness on a regular basis. And if you're ever in Philadelphia, stop into Vedge for dinner. You'll thank me later. Other restaurants that are on my list of faves are Fox and Fig in Savannah, the Modern Vegan in Las Vegas, Veggie Galaxy in Cambridge, Massachusetts, the Chicago Diner, the Vegan Nom in Austin, and Oyamel in D.C. Oyamel had me with their drinks and chips and salsa! This restaurant list could go on and on, but this blog post is only so long. At any time, if you need a restaurant recommendation in any major US city, call me. I could probably recommend a place!
Now I'd like to tell you a bunch of random things that I love. Hang on tight! This list is going to be all over the place! But it'll give you a sense of what I'm all about. And I should preface this with the fact that these favorite things are random and of course come after important things like peace, love, equity, freedom, democracy, trust, animals, humor, family, friends, self care, happiness, and the environment. OK, are you ready? And as difficult as this is for me, I'm purposely NOT organizing this list so that you cannot just skip to the topics you like! This will drive some of you crazy, while others will love this. And I'm not including links to all of these things either; you can search them on your own. Enjoy!
I love relaxing on a sunny porch while drinking peach iced tea. My favorite junk food is Zapp's Voodoo Heat potato chips, but at a rest stop on a long road trip, I always buy Bugles. I love walking under the live oak trees here in Savannah. I also love cooking with shallots. Each year, I anxiously await the Museum of Fine Arts' French Film Festival, which takes place in July. I love and miss the bunnies that used to roam freely around my North End neighborhood in Boston. I am in awe of the continuously great work of Ava DuVernay. I love the music and storytelling of Lynn's own Don White. Also from Lynn, Massachusetts is another favorite: Tony Gallo and his many bands; catch them live!
I also love aperitivo parties, herb gardens, Oprah, David Sedaris, Chris Rock, Joaquin Phoenix, Trevor Noah, John Oliver, Martha Beck, Seth Meyers, and Kate McKinnon. If you want to see a powerful interview, catch John Oliver interviewing Monica Lewinsky.
I enjoy 80s music, being organized, M. Night Shyamalan, learning about talented people doing what they love, wine bars, Parisian style, Michelle Williams' pixie haircut, the fabulous comedy of Kumail Nanjiani, the film What We Do in the Shadows, Digs Enamel jewelry in Massachusetts, the throw quilts my mom made me a long time ago, and the music of Pink Martini. I also love Paulo Coelho, Ayanna Pressley, driving a stick shift, big floor-to-ceiling windows in homes, minimalist style, and the super-cool, funky Couture Planet handbags, which are made from recycled newspaper.
I love the Obamas, Tina Fey, Amy Poehler, tamarind, Van Gogh's Cafe Terrace at Night, Vernazza, Grace Slick singing White Rabbit at Woodstock, movie trailers, the film Parasite, Yamiche Alcindor, Portland Maine, hazelnut spread, indoor/outdoor rooms, cobblestone streets, garden carrots, and a fully-charged cell phone since mine never seems to be.
I love fresh basil, speaking Italian, French-pressed coffee, tacos, maple sugar candy, open-mic nights, the food trucks in Austin, Gallery Espresso's Bull Street Blend coffee, hors d'oeuvres-type food, the tea leaf salad at Burma Superstar in San Francisco, and getting a vieux carre at the Carousel Bar in the French Quarter.
I love the music of Jill Barber, Earl Thomas, Nina Simone, Tom Ze, Alicia Keys, Eilen Jewell, and the Talking Heads. I love the radio show, Wait Wait…Don't Tell Me!, and the New York Times' crossword puzzles.
I love weather apps, spice shops, Rumi's poetry, Oltrarno in Italy, Lisa Simpson, Lily Thomlin, Lizzo, Awkwafina, peanut butter and chocolate, cocktail parties, tapas, avocados, independent bookstores, the sketch comedy of Key and Peele, the fabulous art in Lynn, Massachusetts where I used to live, especially at the Galleries at Lynn Arts (GALA), RAW Art Works, and the Lynn Museum.
I love the fabulous dancing sisters, Norah, Yarah, and Rosa; check them out on Instagram. They are amazing! I love the card game, Rummy, but I also love Clue, the board game. And Boggle too! I love watching Serena Williams play tennis; I'm continually amazed by her skill, power, and grace on the court. And though I've only been there once, I love the Green Mill Jazz Club in Chicago.
I love the Serial podcasts and how the narrators feel like they're my friends halfway through any given episode. I thoroughly enjoyed Glennon Doyle's Untamed, and I think it changed me a little. Larry David always makes me laugh. I love the loose-leaf tea from the Ashford Tea Company in Savannah. Lastly, I love porch concerts, halva, NPR, balconies, cities with high walk scores, and learning about the Blue Zones. I love the bright azaleas in Savannah in April, glass from Murano, paying off credit card debt, and the strawberry bread that's made at the Sentient Bean, which is a lovely four-minute walk from my home.
Of course I could go on, but I won't. I'm stopping here, but who knows…maybe there will be a part two of this list in the future! Are you inspired to write your own (very random) list of favorite things? I hope so! Maybe just reading this got your mind off of the state of things in our country right now. Maybe for a few minutes you were not worried or stressed. I hope you are safe, happy, and surrounded by beauty, love, and comfort.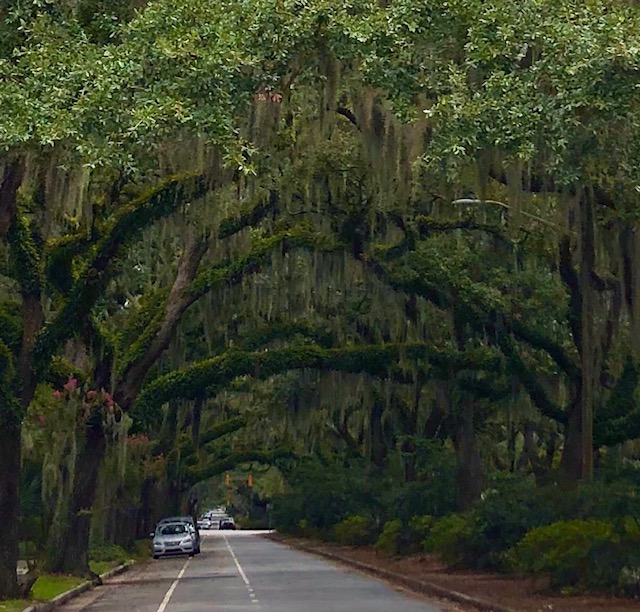 Cheryl Russo
September 2020